We are a company able to provide a complete service from design to installation and management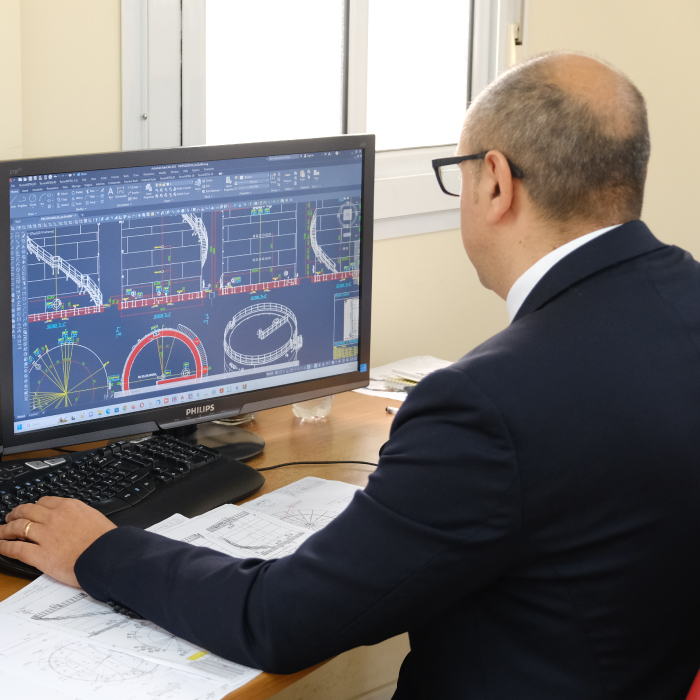 Production Buildings
Main building: 3.000 sq.m. covered area;
24.000 sq.m. uncovered area located in  Brindisi's Industrial Zone.
Departments
Administration;
Personnel office;
Technical office;
Commercial office;
Quality control office and NDT (MT-PT-VT);
Purchase office;
Accountancy and Costs control office
About Us
We Provide Solutions For Your Needs
CO.MO.SUD was established in 1993 as a small, sub-contracting steel fabrication company, supplying all companies involved in the construction of Brindisi's power station and the expansion of the petrol-chemical plant.It has developed as a components supplier for many important clients  and has strengthened its experience in the maintenance of main producers existing plants in the surrounding area.
We have a very flexible organization, which allow us to manage a wide range of customers' requirements in relatively short time periods, applying competitive prices as well as satisfying all quality assurance parameters .
In order to follow our strategies, we decided to increase and consolidate our presence in the suppling area as well as keeping maintenance activities.
We are pursuing the above strategy with a whole series of investments intended to increase our production capacity by enlarging the logistic base,  buying new equipments and training our staff.
Our technical structure enables us to have turn-key works, together with other specialized companies operating in all civil and industrial areas.
The continuous monitoring of a project progress as well as the technical software support and correct project management, enable us to offer our on-time-delivery guarantee.
Thanks to an in-house software that we have developed, we are able to accurately monitor the progress of the works on a daily basis.
This allows us to adjust our trend, if necessary, and always return within the delivery times that we have guaranteed to our customer.
Our quality check section guarantees proper made products manufactured according to ISO 9001 VISION  quality assurance.
30+ years of commitment to make a dream come true
Founded By FRANCO
On the 23rd of April 1993, Mr. Franco Gentile, the actual CEO, founded Co.Mo.Sud S.r.l. Unipersonale: a small steel-carpentery company.
LOCAL ACTIVITIES
The main activities carried out were maintenance and small equipment manufacturing for local plants.
INTERNATIONALIZATION
We land abroad and begin to getting known all over the world, specializing in various sectors and developing more important and bigger projects.
EXPANSION
The expansion goes on and we plan to build one more workshop to expand the already existing one.
WORK WITH us
We Provide you an high quality work that meets your expectation
Our company is constantly engaged in developing effective quality policies. Continuous improvement is one of the company objectives
Certificato ISO 9001:2015
Certificato ISO 14001
Certificato ISO 45001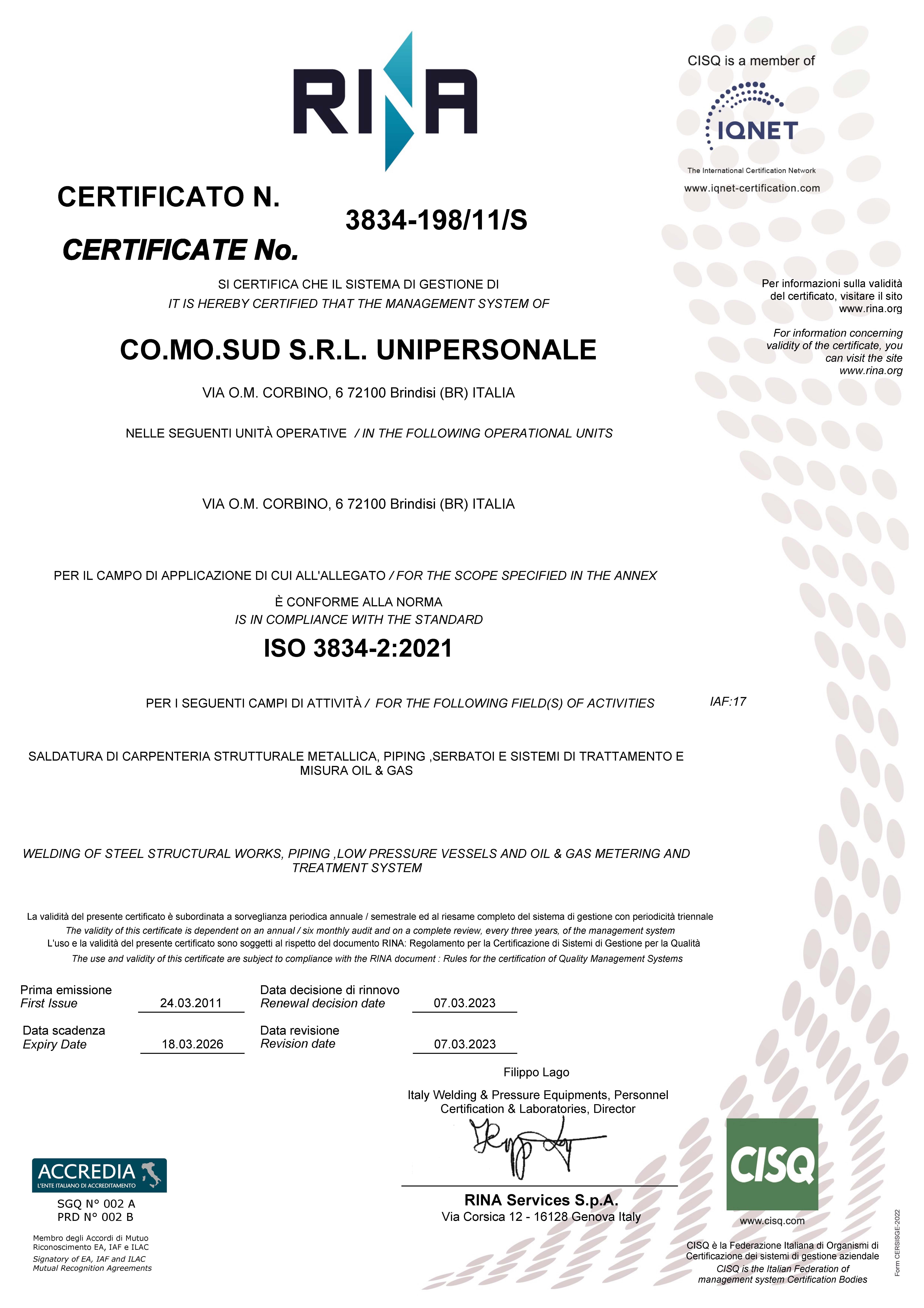 Certificato ISO 3834-2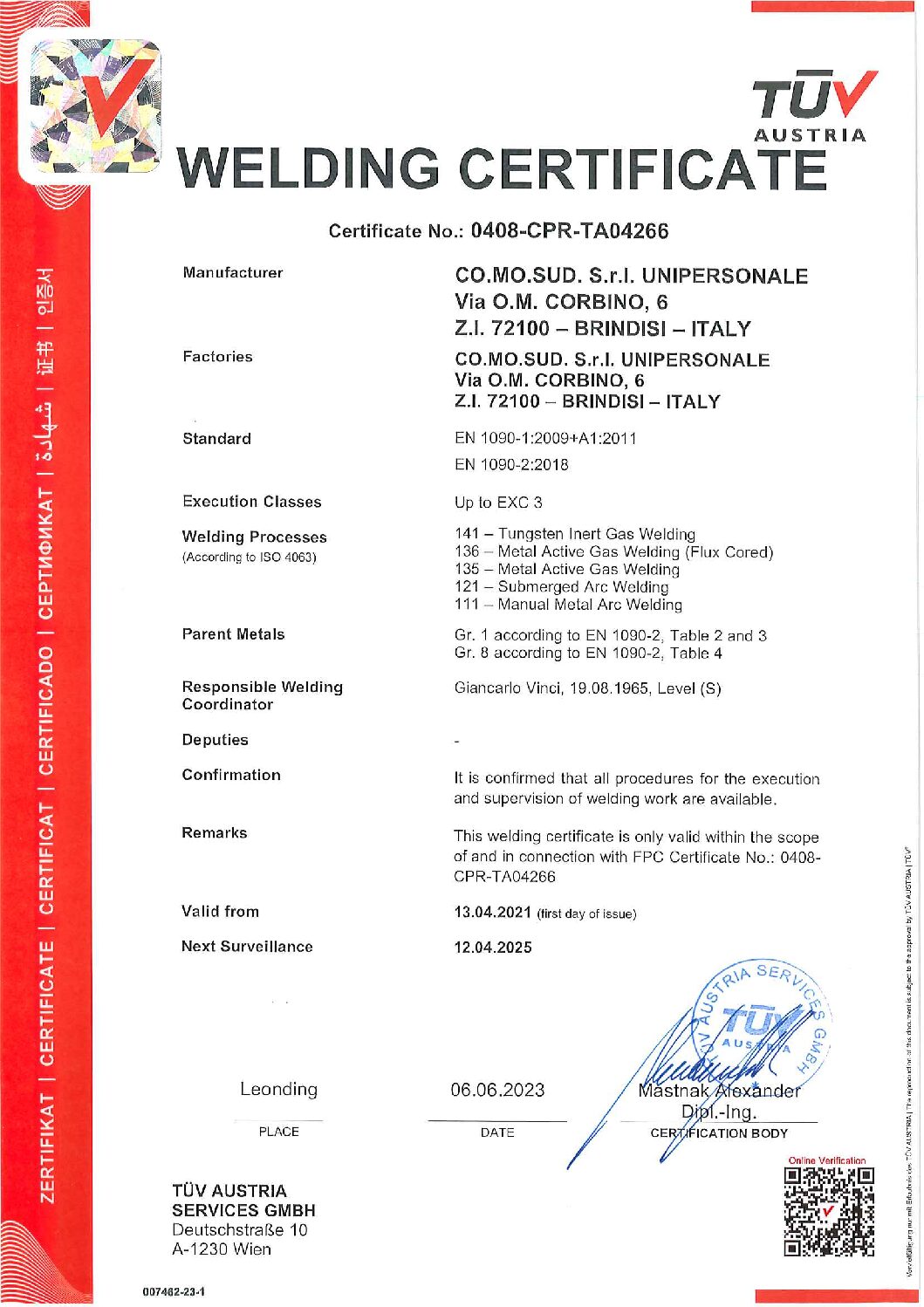 Certificato EN-1090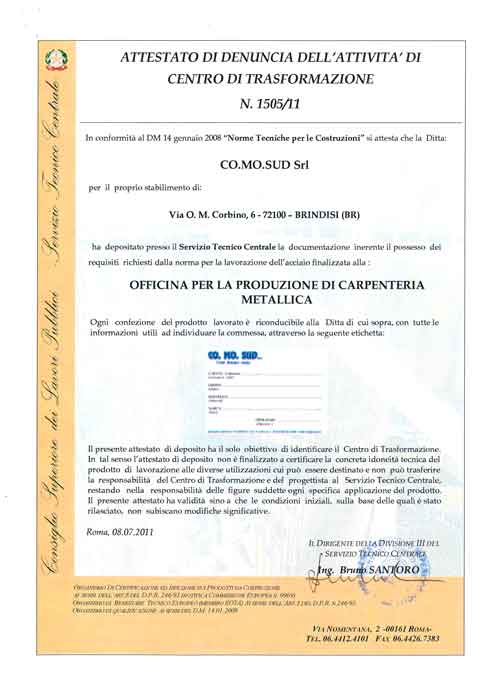 Attestato Centro Trasformazione