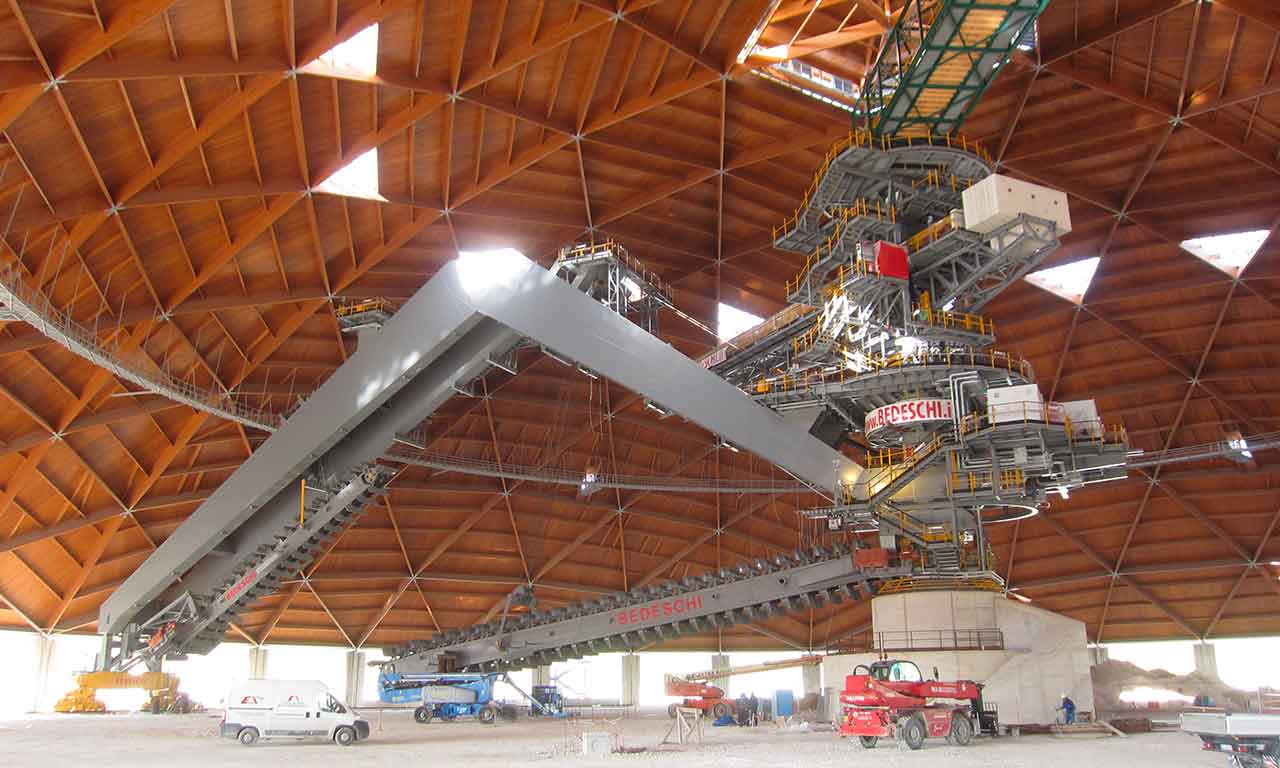 The two stacker-reclaimers have been installed inside the two domes of the ENEL's "Federico II" Thermoelectric Plant in Brindisi.
These machines move on a circular rail with a diameter of 134 m, through 4 motorized bogies, and a fifth wheel which allows a 360° rotation of the machine.
The maximum storage capacity is 3000 tons/h. The range of action of the Reclaimer arm is equal to 67 m, while that of the Stacker is equal to 30.5 m..
Supply of stacker reclaimer machine for coal
Category: Material Handling
MATERIAL: Carbon Steel – S355J2
Location:  ENEL thermoelectric plant "Federico II" in Brindisi
INFO: 800 Ton – 134m x 40m H
The activities we carried out were: the reworking of all drawings,3D and 2D models, prefabrication and machining, on-site assembly and commissioning.
Immediately after assembly, we also took care of the maintenance of these machines, which we still maintain today, having a maintenance multi-year contract with ENEL.
Manufacturing activities consisted in the preparation of the semi-finished products such as metal sheets and profile cutting, surface preparation, assembly and welding of the individual parts, mechanical machining of the connection surfaces of the components, NDT of welded joints, dimensional and geometric checks in accordance with project tolerances.
Subsequently, each component was painted as per painting cycle according to the customer's specifications, and transported to the site.
The activities on site consisted in the assembly of the macro-components, the NDT control of the welded joints with the restoration of the paint.
Beside carrying out the assembly, we also directed the lifting phases and carried out the functioning tests with the complete machine.